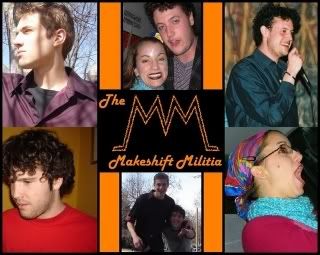 Makeshift Militia banded together in March of 2007. It was a brainchild of UMKC students Magie Hogan and James Nelson, who wanted a tight-knit experimental group after seeing inspirational performances from The Trip Fives and CounterClockwiseComedy at the Kansas City Improv Festival. They recruited two fellow actors in their theater program, Ryan Meharry and Grant Prewitt.

The quartet played their first public show on the UMKC campus on May 6, then played several more shows throughout the summer and fall, at venues such as the Westport Coffee House and Roving Imp Theatre. The latter, a young theatre run by John Robison, was extremely supportive to Makeshift, offering them free rent and a very generous profit split. As thanks to John, the group asked him to perform with them as a special guest during a show.
In November of 2007, MFA acting student Anthony Merchant joined the lineup, and Makeshift Militia was scheduled to appear in Improv Thunderdome. They slowed down the number of performances, and through the winter played only about once a month.
In early 2008, they made efforts to expand the team's success, including taking on new members Will Fritz and Carey MacLaren, doubling their weekly rehearsals, booking lots of on-campus shows, and continuing to develop their unique style. In March, they won the first round of Improv Thunderdome, putting them into the championship round, in which they placed second.
The future looks good for the group as they continue to play in many shows every month. They are slated to appear at the
Kansas City Fringe Festival
and
Improv
Thunderdome
: Season Two.